GTD Coach Kelly
is on a journey to get Lotus Notes tasks to sync with her iPhone and she's got a lot of followers waiting to see if she will be successful. You can read her adventures
here
.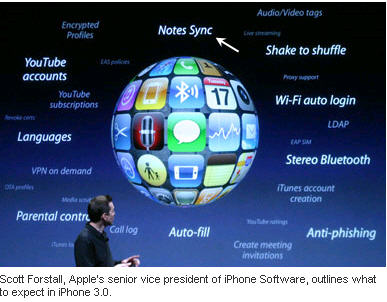 Chris Blatnick
posted a comment that said that Notes/Domino 8.51 will include native Lotus Traveler support for the iPhone but it is unclear if this will provide the features that Kelly needs.
As far as I know, one problem that business users face with the iPhone, at least from a GTD perspective, is that the iPhone does not support tasks. So, unless Lotus Traveler 8.51 adds a Task app to the iPhone, Kelly will still not achieve the level of productivity she seeks.


To give Kelly her ultimate GTD system, she needs:
:
1.
Lotus Notes
- Got that
2.
eProductivity
- Got that
3.
iPhone
- Got that
4. An on-device task application - It must sync with Notes. (See #5)
5. A way to sync tasks (#4) with Lotus Notes - Traveler? mNotes?
Now that you have seen the list of requirements, do you have any recommendations?
Read:
Kelly Forrister: New iPhone feature for Lotus Notes?


Note to iPhone software vendors:
If you have a product that meets requirements #4 and #5 I invite you to post a comment and link here. Everyone else: please don't flood the blog comments with advertisements for your iPhone products unless they meet requirements #4 and #5. Thank you!