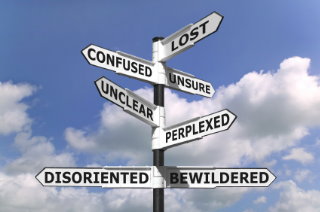 I'm trying to figure out how to best serve our customers that are switching to Lotus Notes from Microsoft Outlook. When we launched eProductivity, we designed it to be the ultimate productivity application for
Lotus Notes
users. Our marketing plan didn't include getting people to switch to Lotus Notes from something else. Frankly, I didn't expect anyone would.

I was wrong.
We are learning that people are switching to Lotus Notes in order to use
eProductivity
, but many of these people have never used Lotus Notes before. The numbers are very small right now, but they are growing.
I should point out that these are individual users, not enterprise deployments. At least not yet. Typically, these are people that learn about
David Allen's
Getting Things Done® (GTD®) Methodology
from a book, web site, seminar, or
conference
, get hooked on the idea of increasing personal productivity, learn that
David Allen uses and recommends Lotus Notes and eProductivity
. They then Google for these tools and install them.
Traditionally, Lotus Notes has not been been sold directly to end-users and an end-user wanting to get started or seeking answers can find it challenging, even though IBM has a huge collection of support material. Those that are successful in finding, buying, downloading, and installing Lotus Notes have no problem installing eProductivity, but I frequently hear of people having small questions or problems setting up POP3 or IMAP and Lotus Notes. While I'm thrilled that non-Notes users are finding value in the solution we have to offer, if someone switches to Lotus Notes from Outlook because of my product I want to do what I can to help ensure that their experience with Lotus Notes is a positive one.
I've always thought that Lotus Notes is the ultimate Information Manager, long before GTD and eProductivity came along. At present, Notes is positioned as a solution for IT and enterprises. What I'm seeing is interest from individuals. You can see the obvious gap. This gap represents an opportunity, if IBM can find ways to make this experience easier for new users.
Here's a Tweet thread from this afternoon, between @RapunzelMAP and @unconntam that illustrates this point:
@uconntam Excellent post Tam. I'm having almost same problem. I'm SO excited about eProductivity, everything I ever dreamed of however..
@uconntam I wasn't a Lotus Notes user before, but migrated especially to get 'eProductivity' but can't get Hotmail (POP3) into Lotus Notes..
@uconntam & until I do that, I can't really download the eproductivity template. :oS searched everywhere on the web but realised that..
@uconntam ..this is a bigger issue than I potentially thought. I KNOW that Outlook users etc would migrate [to Lotus Notes] to gain something like eproductivity!
And here's comment (#34) from
Ed Brill
's recent post:
Doing Things Different
:
I'm one of those tiny, unimportant, single license Notes users (both on Mac and PC) and I only got excited about Notes because of Eric Mack's eProductivity software. The combination of the two has completely obliterated any thoughts I might have about ever going back to Outlook, Apple Mail & OmniFocus.

My conversation with Eric Mack at the GTD Summit was the best [Lotus Notes] ad I could have ever heard. In 5 minutes, he dispelled every myth I'd had and corrected every wrong impression [about IBM Lotus Notes]...

However, I feel very much alone in the Lotusphere because I have had trouble getting the help I need when I get stuck. All the answers I find seem to come back to: talk to your system admin.(I am the SysAdmin! I don't have an IT department at home. Plus, none of it is Mac-specific.) That's not going to make me change back to my old system, but it has begun to affect my enthusiasm for a product I was completely enamored with about a month ago...
Ed quickly respond to the above post:
@34 Tam, Eric is right, we are not oriented enough to supporting individual end-users. I would like to be able to do something more like the Symphony part of our website (symphony.lotus.com) but we will take some time to get to that. My team is trying to make some short-term website adjustments to help you and others like you.
This is encouraging. I should also add that last week I had an encouraging discussion with Michael Masterson of IBM Lotus about this and I'm hopeful that his
tweet will come true
and that he will make it easier for individuals to purchase, download, and install Lotus Notes. But that's only part of the challenge. Since Notes has historically been an enterprise application there are virtually no end-user focused communities for end-users of Lotus Notes that I am aware of (other than our
Notes on Productivity forums
which are not very active at this time).
I'm delighted to read Ed's response and I believe IBM will adapt, but I don't know how long that will take. I'm not sure what I'm asking here, but I thought I would share the above and then put these two questions to the community to discuss:
1. What does this mean for IBM? Is it a good thing that individuals want to purchase and install Lotus Notes for personal use instead of Outlook, Entourage, or another app? Or, should IBM stay the course and focus on selling to the enterprise and SMB market?
2. What can we in the yellow community do help these people get started? What resources (blogs, web sites, etc.) can we point them to?


Update:
Independent from my writing this post, I received a few emails today from people offering ideas. I have written to them to ask them to post their thoughts here or to give me permission to do so.