Michael Sampson
Skyped me with another of his daily reasons for why I should buy a Mac.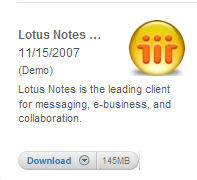 Apple's apparently listed Lotus Notes as a
featured download
. The link is not for Notes R8, but this is exciting nonetheless. I've ranted about the lack of visibility of Notes for end-users. This is a step in the right direction. No idea if this is an Apple, IBM, or user initiated activity but it's exciting all the same. I've not tested the link yet but I hope that IBM's provided a reviewer's guide for the Mac. So often the power of Notes is not realized until someone explains or demonstrates how key features and concepts work. Notes is unique in so many ways that much of the power is often missed without a tour. Fortunately, we are seeing many good video tours on YouTube. Perhaps someone will post one for the Mac.
Continue Reading "Good on you, Apple, for Lotus Notes featured download" »