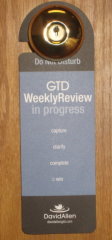 David Allen teaches that one of the most important parts of his Getting Things Done (GTD) methodology is the weekly review. It's an opportunity to pick up, cleanup, and regain control and perspective across the horizons of our commitments. For those of us that resort to post-its (I won't mention any names, Alan) it's an opportunity to get those into a trusted system, too.
At the end of each year, I like to review my systems to see what I can clean up and what I can improve upon for the coming year. I start with an extended weekly review, which often turns into a week-long review. If you are unfamiliar with the weekly review process, here are the steps that I follow, inspired by David Allen's helpful
GTD Weekly Review Audio Series
:

Steps to a successful GTD Weekly Review.


Get Clear
Collect Loose Papers
Process Papers
Empty Capture Tools
Process E-Mail
Empty Head
Get Current
Review Action Lists
Review Previous Calendar
Review Upcoming Calendar
Review Tickler Files
Review Waiting-For List
Review Projects
Review Goals and Objectives
Review Areas of Focus
Review Relevant Checklists
Review Reference & Support Material
Get Creative!
Review Someday/Maybe List
Sadly, for some of us, (myself included at times), the weekly review has turned a weakly review. Even though I have built a Weekly Review Coach into my Lotus Notes
software
for getting things done, it doesn't do the review for me - it's still up to me to do that.