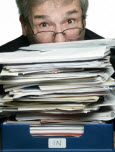 In the fast pace of today's business world, we are pressed to do more with less, to track more things and, well, get things done. Unfortunately, it's easy to get overwhelmed, miss something, and have things fall through the cracks. When that happens, you lose control and perspective and this can have a draining impact on your personal productivity, causing unpleasant ripples in your personal and professional life.
The solution is to hold the world back once a week so that you can do a thorough review of everything that you have (or should have) attention on. David Allen calls this, the
Weekly Review
. By completing a thorough review, you will feel a greater sense of control and perspective throughout the week and when you do it consistently it will transform the way you get things done.
The Weekly Review Process. It is the critical success factor for people that want to get things done.
This Thursday, May 28th, GTD Coach and fellow eProductivity user Kelly Forrister is leading the first Worldwide GTD Weekly Review. Kelly will be using Twitter to coach a global audience through the Weekly Review process.
Here's how the Worldwide GTD Weekly Review will work:
On Thursday, May 28th from 10AM-11AM Pacific Time (check your local time), clear your schedule to do a GTD Weekly Review. Follow me @GTDCoachKelly, or follow the tag #Tweekly. I'll walk everyone through the GTD Weekly Review checklist. We'll have 5 minutes per step before moving on to the next one. Yes, 5 minutes. Idea is to get you through a taste of all of 11 steps. If you're not done with a step, just bookmark your next actions list with what's left and move on to the next one. I'll Tweet the step and an explanation of what you can do. Or, if you are so inspired and getting good stuff out of the step you're on, stay there. There's no "should" here except to get whatever value you want to get out of it!
I encourage everyone to participate in the Worldwide GTD Weekly Review.


Notes users:
I invite you to
have a look
at how David Allan and I manage our Weekly Review in Lotus Notes, While, you do not have to use Lotus Notes or eProductivity to do a successful Weekly Review, it just might be
easier
.


Bloggers/Twitterers
: It would be great to have some people blog or tweet their experience doing a Weekly Review in Lotus Notes. It looks like
Paul Gardner
and
Peter Simoons
have already started. (If you would like your own license of eProductivity see
here
. I have three left.)