The power of mind maps as a visual planning tool is undisputed.
MindManager
brings that power to the personal computer. Lotus Notes is a tool long-used by highly productive organizations for managing their communication, collaboration, and coordination of information-related activities. Hmmm. Can you tell where I'm going with this post?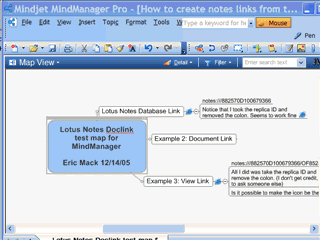 Notes Doclinks in MindMaps bring together two powerful tools for information management:
One of the Lotus Notes productivity features that I use regularly is doclinks. In Lotus Notes, a doclink can be created to jump to a Notes document, database,or view. The ability to embed these doclinks in my project and action lists gives me a quick and easy way to link to all of my support material regardless of where they are located. The beauty of Notes Doclinks is that the Notes client will locate the target regardless of whether it is located on the local machine or a remote server.
Continue Reading "Using MindManager as a Dashboard for Lotus Notes" »