You're not using ActiveWords?!! You don't know who Buzz is?!! You're in for a real treat! Tech evangelist,
Robert Scoble
will interview my buddy,
Buzz Bruggeman
, CEO of
ActiveWords
, on
www.fastcompany.tv
today at 10:00 AM PST.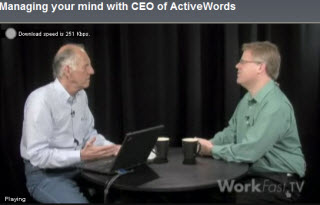 Buzz is always an
interesting guy to visit with
. To refer to him the CEO of ActiveWords is too limiting. Buzz is perhaps the best networker in the tech world - he's certainly the most prolific. (There are probably only 2-3 degrees of separation between Buzz and anyone in the tech world you'd want to meet.) I've had the opportunity to work with Buzz on several occasions as we share a common passion for all things mind mapping, GTD, and productivity.
Buzz and I first began talking about adding ActiveWords support for Lotus Notes
several years ago.
We finally did it and,
with ActiveWords and eProductivity, millions of Notes Users can finally control the most productive aspects of Lotus Notes, from anywhere - even when Notes isn't running!
I wonder if he will demonstrate or talk about ActiveWords and Notes on the show? (Hint to Buzz)
Anyway, here's the link to the
live broadcast
. I believe the replay will be up shortly, too.
Update:
Here is a link to a PDF of my ActiveWords Wordbase