I've been using mind mapping tools for over two decades. I started with colored pens and paper and moved to digital tools. One of my favorite mind mapping resources, Chuck Frey, has just published an extensive comparison chart of the major web-based mind mapping applications - MindMeister, Mindomo, Mind42, Comapping and Mead Map...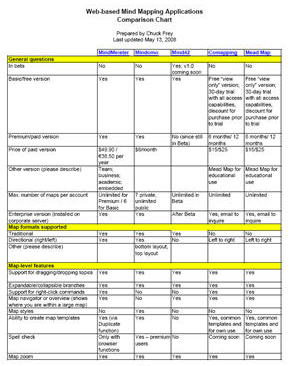 Some of the comparison features include:
- Overview (versions, pricing)
- Map formats supported
- Map level features
- Topic-level features
- Import options
- Export options
- Publishing options
- Collaboration
- Other features
Chuck's comparison chart is available as a
free download
from his blog.