One of the productivity exercises I try to go through at least once each new year is to clear the decks of my productivity workspace. What that means is I remove from my office everything that isn't supplies, reference material, or decoration. I dump it into boxes and move it into the next room. What you see here is the result of that first step. this is my productivity cockpit, my flight deck for productive work....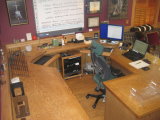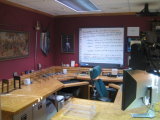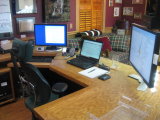 In these photos, you can see that my desk surrounds me and I have everything I need to work effectively. (I'll blog more about the tools later, for now I simply want to share what the decks looks like when they are clear.)

The next step is to bring things back into my office and put them into the appropriate places. Much of the "stuff" that I bring back is in piles - books and reviewing or researching, papers, project files, stacks of mystery read/review items, and piles of scraps of ambiguous stuff. The rule is - and this is important - I cannot bring anything back in without putting it into the proper place. To do this, I throw all of the collected items into my physical in basket to process.
Then, I remove one item from the top* and answer two questions:


1. What's the successful outcome?


2. What's the next action?
With a clear understanding of the outcome for something that I am holding and a clear grasp of the next action I can decide what to do next:
I can DO it if it will take me less and 2 minutes to do,
I can DELEGATE it to someone else, better equipped to do it,
I can DUMP it which is why I keep a big trash can at hand,
I can DEFER it if it will take longer than 2 minutes to do, I'll put it on a list (I use eProductivity, but you can use any trusted system for capturing projects and actions,
or I can FILE it into a filing system, either paper-based or digital (I usually use the Reference database that's built into eProductivity).
I then repeat the process using all of the digital artifacts that I have collected in my e-mail inbox, on my windows desktop, and the "My Documents" folder.
The end result is, at least once a year, often twice, I end up with a clean and more important, an organized office, ready for productive work. You can learn more about this approach in David Allen's book, Getting Things Done and in the many free resources on his company
web site
. Here's a link to
an excellent workflow processing diagram
by my friend, Scott Moehring.
Time permitting, and if there's interest, I'll continue to blog about some of the steps I use to gain control and perspective as I prepare for the new year.


Happy New Year everyone!
* If you find it hard to discipline yourself to pick up one and only one item from top of the inbox, here's a trick I sometimes use: I place the in-tray on the floor behind my chair so I can reach down and pick up only one item without getting distracted by whatever else may be waiting below it. Yes, sometimes, I need to trick myself into being productive and this trick works!