My first paid consulting job convinced me that technology would solve all our problems. Over 30 years ago, I was writing flight-planning programs with a 1-kilobyte* programmable calculator, and it was incredible: calculations that took hours by hand were done in a few minutes.
What I didn't see then was the whole picture. Technology is (and always has been) only part of the equation. My client and I had to put our knowledge together: his knowledge of the math needed for flight-planning, and my knowledge of how to write that into a program.
What I've discovered is that machines can never do our thinking for us – even though advertisers have been claiming they can for decades. Exhibit A: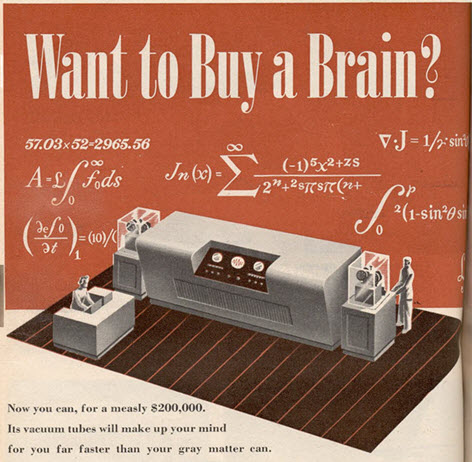 "Its vacuum tubes will make up your mind for you far faster than your gray matter can." Somehow I'm reminded of modern ads claiming that technology can decide what's important to you.
What I found out
During my graduate research on how people work. I saw that even people with the best technology could work very ineffectively. At the same time, some people could use outdated equipment – even as simple as pen and paper – and create great value for their organization. Obviously, technology alone didn't make people better workers.
It became clear that technology is useless if people don't know how to work with it – and more importantly, use it to work together.
Based on my experience and research, I came up with this equation as a model for the effectiveness of individuals and teams:
Value (V) = Knowledge (K) x Methodology (M) x Technology (T)
Technology is literally only part of the equation. There are two other factors:
Methodology: the habits, rules, and practices that people follow to get work done. In other words, how people work.
Knowledge: what you know, who you know, and what they know
Let me go back to the flight-planning example:
K = my client's knowledge of the mathematics needed for flight-planning
M = my process for translating that math into programs
T = the 1-kilobyte programmable calculator
Without all three, our operation wouldn't have worked and I would've been out of a job.
A kindred spirit


I was delighted to come across a very insightful article that Mark Mortensen of INSEAD recently wrote for the Harvard Business Review: "Technology Alone Won't Solve Our Collaboration Problems." He emphasizes "a simple truth: it's not what technology you've got, but how you use it" and includes three specific examples of how to work more effectively with today's technology.
I'm glad to find someone who recognizes "it's less important which technology you choose and more important that you align it with how people do work." Mortensen acknowledges the importance of method and knowledge as well as technology. See here for his article.

Three factors to success
The interaction of knowledge, methodology, and technology is critical to any organization's success and the value of any individual's work. This is what I've brought to my consulting clients over my decades in the field, and I've clearly seen the results: it works.
To share your thoughts on this topic, connect with me on social media (below). When you're ready discuss how I can help you and your organization manage the balance of KMT, click "Contact" in the upper-right. I'd love to chat!
Best,
Eric
*For the younger crowd: 1 kilobyte is about 1/16,000,000 of the memory of a standard iPhone 6.
Image credit:
"Buy a Brain" image by DigiBarn [CC BY-NC 3.0 (http://creativecommons.org/licenses/by-nc/3.0/)]. Changes made: image rotated clockwise 1 degree; article text cropped out; additional border coloring added. Scanned by DigiBarn from Popular Science, May 1949. Link to original image: http://www.digibarn.com/collections/mags/popsci-may-1949/brain1.jpg