I'm very excited to participate in the first GTD Summit. As with my recent trip to Lotusphere, I will be wearing three hats: Attendee, Exhibitor and Panel Moderator
This year, I will be moderating the "GTD at Home: From the Board Room to the Living Room" discussion panel. If you have a question you would like to ask the panel, please post it here. IBM Blogger Chris Blatnick will be attending as well. Between Chris and Ryan on our team I'm sure the event will be well covered. Also be sure to keep an eye on the GTD Times site as they will have live updates, too.
I believe that GTD Summit will prove to be an important event to attend, possibly the best investment for 2009. The list of speakers is impressive and the breakout sessions will address important areas of personal and organizational productivity from key thought leaders
I'm also excited that we will get to meet several of our eProductivity customers there. If you are planning to attend the GTD Summit, please plan to stop by and say hello, You can find me in the above session on Thursday and at the exhibit with Amy and Wendy during the week. Look for this sign: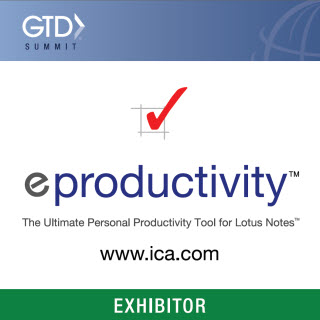 Need a ticket to the GTD Summit? Here's an opportunity you won't want to miss.