If you use Lotus Notes and the GTD methodology, you'll be pleased to know that the long awaited GTD and Lotus Notes implementation guide is now available. My colleague, Kelly Forrister, and her team worked hard to assemble a valuable collection of tips and tricks for using the Lotus Notes Calendar, Email, Personal Journal, and To Do's more effectively.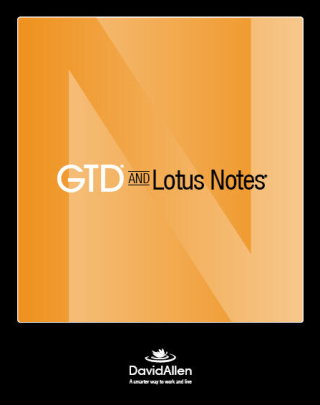 David Allen and I began using Lotus Notes long before The David Allen Company first opened its doors. Over the years, I've not only learned for myself what works and what does not, I've had the privilege to watch other highly productive people use Lotus Notes effectively. I think Kelly's done a great job of collecting some this wisdom in one place.
In the 1990's, I started to collect the things that I learned about using Lotus Notes and the GTD methodology and built them into the
eProductivity Template for Lotus Notes
. The trouble is that I've used this template for so long that I often forget that it can be quite a challenge to implement GTD within a vanilla Notes framework. (BTW, the same holds true for Outlook. These products seem to be designed more for features than results, often including many features that are simply unnecessary and confusing and omitting others altogether. As much as I like Lotus Notes, some aspects are not well suited for GTD, at least not without tweaking.) That's why I'm excited to see this document become available.
In my
eProductivity consulting and seminars
, one of the first things I do is show Notes users how to change several of the standard Notes settings and change the way they think about Lotus Notes. The GTD and Lotus Notes implementation guide will help you through that process and more - it will explain the essential elements of the GTD methodology in the context of Lotus Notes.
If you've followed my blog for any length of time, you know that I think that Lotus Notes is a powerful tool and a key part of the
productivity equation
. This guide covers both parts. At $10, I think it is an excellent value, particularly for the person that wants to implement GTD in Lotus Notes but, for IT reasons, is unable or not allowed to install a custom template.
I plan to recommend the GTD and Lotus Notes implementation guide to my eProductivity clients - even those that use the eProductivity Template to make their weekly review easier. I think that a single concept from this guide, properly implemented, will more than justify the small purchase price.
You can download the GTD and Lotus Notes implementation guide
here
.
[UPDATE: If you're enrolled in the GTD Connect program, the GTD and Lotus Notes document is available as a free download on the
GTD Connect
web site. What a deal. For my $.02 on GTD Connect, click
here
.]