I have a topic that I want to put out to the Notes community to discuss. I could simply blog about it and ask people to comment. The challenge is I end up with a long list of comments without threads. I could direct people to a forum where discussions would be threaded but at the end I would have to summarize all of the conversations into one document - too much work.
The Web 2.0 thing to do would be to post the document to the web and invite people to modify the document itself. I thought a Wiki might work well for this purpose and so I headed over to the OpenNTF site to download the new xPages Wiki, managed by Steve Castledine and Niklas Heidloff .
In less than 5 minutes I had downloaded the Wiki, read through the quick start guide and set up my first xPages Wiki.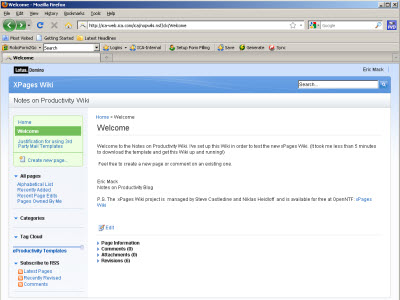 The steps I used were:
Download template to my Notes DATA Directory
Sign template with an ID authorized to run agents on the Domino server
Create a new Wiki.nsf file on the Domino Server and grant ACL rights
Access the new Wiki from the web and start posting
That's it. Less than 5 minutes. Wow!
Some things I like about the new xPages Wiki so far:
Easy to set up
I can access content from a web browser or from my Notes client
Some questions/concerns I have:
Word wrapping appears to change places from time to time. Some times a line will wrap in the middle; other times near the end.
A few times, I created pages that when I clicked on the link I ended up at a Notes 4 era list page. Clicking through worked. (Possible configuration issue, or a bug?)
I do a lot of off-line work. I wonder what will happen if I edit pages and replicate back to the Domino server when others have made changes. I may want to limit myself to off-line reading and reference.
Things I'd like to see:
E-Mail notification of updates with a Notes doclink (in addition to RSS)
Ability to customize the site design
All in all, for a 20-minute investment, including a test Wiki page and this blog post, I'm impressed!
If you want to check it out, here's a link to the new Wiki I set up for readers of this blog: http://www.NotesOnProductivity.com/Wiki