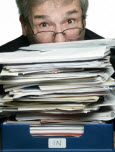 In the fast pace of today's business world, we are pressed to do more with less, to track more things and, well, get things done. Unfortunately, it's easy to get overwhelmed, miss something, and have things fall through the cracks. When that happens, you lose control and perspective and this can have a draining impact on your personal productivity, causing unpleasant ripples in your personal and professional life.
The solution is to hold the world back once a week so that you can do a thorough review of everything that you have (or should have) attention on. David Allen calls this, the
Weekly Review
. By completing a thorough review, you will feel a greater sense of control and perspective throughout the week and when you do it consistently it will transform the way you get things done.
The Weekly Review Process. It is the critical success factor for people that want to get things done.
This Thursday, May 28th, GTD Coach and fellow eProductivity user Kelly Forrister is leading the first Worldwide GTD Weekly Review. Kelly will be using Twitter to coach a global audience through the Weekly Review process.
Continue Reading "Worldwide GTD Weekly Review Thursday - Don't miss it" »